Jaguar Bolton rewards hard work of Harper Green Pupils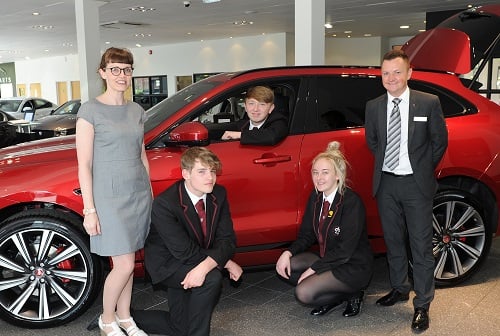 Farnell Jaguar Bolton has rewarded the hard work of three Harper Green School GCSE pupils with a taste of the motor industry.
Year eleven pupils Kelcea Macdonald, Lewis Shore and Jordan Greenhalgh spent the afternoon at the Bolton Road, Farnworth Jaguar dealership as a reward for their outstanding efforts in their Maths and English studies.
The three lucky youngsters were taken for a spin in some of the dealership's luxury vehicles and gained an insight into careers in the motor industry from Farnell Jaguar Bolton's General Manager, James Boyd.
Clare Doherty, Head of English at Harper Green School, explained why the children were selected: "As a bit of motivation in the run-up to their GCSE exams, we gave Year 11 pupils a challenge to go above and beyond in lessons and kept an eye on how they were doing.
"If they made a real sustained effort in class they received a tick for that period and at the end of a month, each pupil received a raffle ticket for every tick they received. Kelcea, Lewis and Jordan's tickets were the winners of a prize draw to visit the dealership.
"All three had a fantastic day. Hopefully, they learnt a lot and left feeling that it was a worthwhile experience.
"It's great to be able to demonstrate the breadth of potential job opportunities with Farnell Jaguar to the students. I hope this is just the start of an ongoing relationship, which will benefit both our pupils and Farnell."
The visit is part of a sustained effort by all franchises owned by Vertu Motors plc, the parent company of Farnell and Bristol Street Motors, to encourage more young people to enter the motor industry.
James Boyd, General Manager at Farnell Jaguar Bolton, said: "The dealership was more than happy to give Harper Green pupils an insight into the motor retail industry. They were really interested in learning about the different routes into various different parts of the sector.
"I don't think enough young people realise that there are opportunities to forge a career in every area of the sector, including marketing, sales, mechanics, hospitality, accounting, design and much more."
Lewis Shore, one of the visiting pupils from Harper Green School, said: "It was great to spend some time at the dealership and speak to James about career opportunities. I didn't realise there were quite so many options and it has certainly given me a lot to think about."